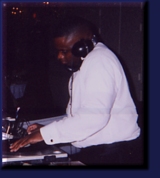 Send 411, promos, vinyl, etc. to:
Metromix Entertainment
117 N. Harrison Rd.
E. Lansing, MI 48823
517.324.4223 office
517.351.8288 fax
AKA DJ RADD 1
... is the "MASTER MIXER" with 20 + years of Experience, who hosted and DJ'd each and every Saturday night from 8-11 PM on the notorious "CULTURAL VIBE for years.
... This specialty show features a creative blend of Hip Hop, R&B, Reggae, and Dance that sizzles the Senses.... IMPACT 88.9 FM, WDBM, East Lansing is an FM radio station that broadcasts an amazing 45 mile radius from the center of East Lansing's Michigan State University...
…DJ RADD 1 holds a B.A. from MICHIGAN STATE UNIVERSITY, and a J.D. from MICHIGAN STATE UNIVERSITY COLLEGE OF LAW. Additionally, he owns and operates WAXMASTERS RECORDS, METROMIX ENTERTAINMENT MOBILE DJ SERVICES, & ONE METROPOLITAN DETROIT RECORD POOL.
Further info available @: www.metromixent.com
Live mixshow feed Available @: www.1037thebeat.com